L'Ardéchoise : La Méridionale
Saint-Félicien
> Saint-Félicien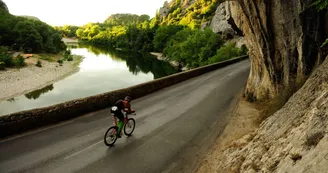 © L'Ardéchoise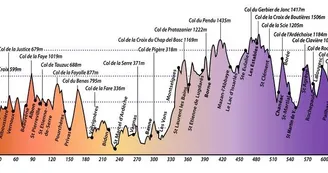 75 Impasse du Gymnase
07410 Saint-Félicien
75 Impasse du Gymnase
07410 Saint-Félicien
The longest circuit on the "Routes of the Ardéchoise" has the good taste to take in the neighbouring regions of Gard, Lozère and Haute-Loire to supply a whole host of contrasts - and cols to be crossed! The longest circuit of 'Sur les Routes de l'Ardéchoise'. It skirts the neighbouring counties of the Gard, the Lozère and the Haute-Loire to offer even more contrasting scenery and ...more hill valleys to traverse. The circuit is a mini replica of the Ardèche, revealing its volcanic, Mediterranean and Cévenol terrain. The landscape changes colour with the seasons and you'll discover all the iconic products of the Ardèche - chestnuts, wines, lavender, fruit, farm cheese and hams. And you'll receive a warm welcome in the villages, each one full of traditional charm as expected from villages designated as a 'village de caractère'.
Your contact
Agence Développement Touristique de l'Ardèche
Pôle Bésignoles, 6 Rte des Mines, 07000 Privas
07000 Privas
Find this route on the Loopi mobile application
Scan the QR code, save as favorites or launch the guide, all you have to do is enjoy!
This route is proposed by: Ardèche Hermitage Tourisme
Be careful and prepared during your getaways. Loopi and the author of this sheet cannot be held responsible for any problems that may occur on this route.